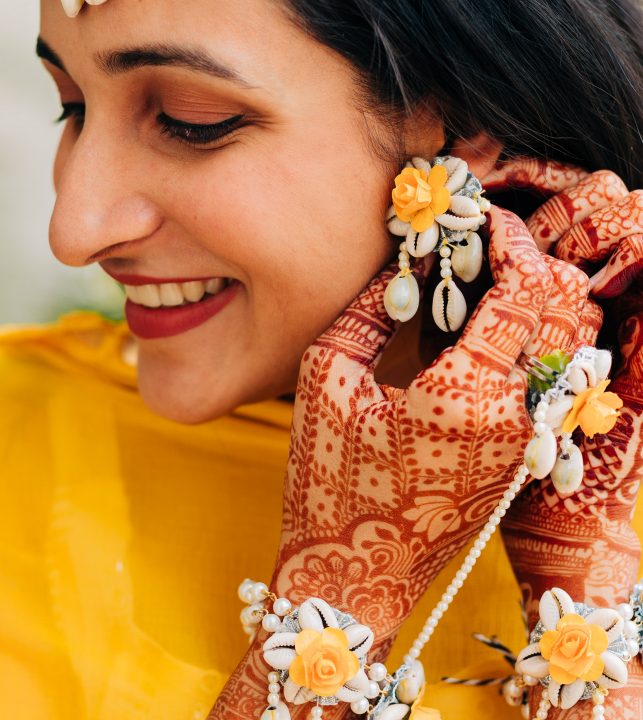 How It All Started
Blossoming since October 2018, Flosaira is a luxury, handcrafted floral jewelry brand based out of New Delhi. In a short span of time, Flosaira has become one of the most popular picks for the brides, owing to its new, innovative designs and premium-quality products and services. Flosaira has successfully served over 650 brides within a short span of time and is poised for rapid expansion within the floral jewelry segment.
Customer-centricity and premium quality lie at the heart of our service offering. With a team of in-house stylists, we strive to constantly innovate and stay ahead in the latest floral jewellery trends. The company is a big importer of imitation flowers, which are used to design bespoke floral creations and accessories for millennial brides and bridesmaids alike.
Client Diaries
Vishakha Sodha
Had an amazing experience!!! On time delivery, reasonably priced, best quality. It totally made my outfit stand out during my haldi ceremony. Much recommended!
Nupur kapoor
Thea best quality floral jewellery.. with a wonderful leader who made sure to customise it as per my choice and delivered it on time! Was asked by one and all about my jewellery and my pics came out vibrant and beautiful thx to flosaira!! I recommend it a 100%!!!! Brides to babies.. they hv these stunning pieces for all.. love love love it!
Saloni Monga
Beautiful jewellery done by flosaira for my mehendi, perfect color combination recommended by the team, will surely get back to you in future. Love your work.
Ustat Kharbanda
Cannot thank Flosaira enough for the beautiful floral jewellery which I wore on my mehendi, it complimented my outfit really well. Got so many compliments. It really made me feel very beautiful 🙂 Flosaira team is absolutely amazing!!
Bhumika Jain
i just cannot thanks find words to Thanks Nidhi from all my heart for making most beautiful and wonderful jewelry for my haldi n mehendi,as well as the best giveaway I could've ever got for my loved ones. Thank you so so much Nidhi for Wonderful Ghungroo n floral jewelry for my big days on such a short notice
Prafulla Ghai
The floral jewellery i ordered was outstanding ,so exquisite ,so bful !probably each 1 of my relative asked me about it! Most importantly 10 on 10 for their dealing ,infact they are too good to their customers !i even got a complimentary gift on my floral jwlry shopping from them!Every bride to be n bridesmaid Go buy without giving a second thought!Flosaira will never disappoint
Jaskiran Kohli
Nidhi and her husband take pains to understand your requirement and make recommendations based on your outfit and look. Since I was already planning to wear diamond jewelry on my mehndi, my floral jewelry was customized keeping that and the tones of my lehenga in mind so that the whole look would look elegant and not overdone. The best part about working with Flosaira was that my stuff was ready way before the delivery date (what else can a bride ask for!) We also ended up ordering a pair of haathphools for my sister for the function and both of us received tons of compliments!
Surabhi
I had a lovely shopping experience with Flosaira. I came across them through Instagram and I absolutely loved their work. I got my dry floral Kaleeras from them and they turned out to be so pretty. Everyone loved them and I couldn't be more happy about it. Thank you so much.
Flosaira Store
Registered address: D-112, Panchseel Enclave New Delhi 110017
Studio address: C-13, Panchseel Enclave New Delhi 110017
Contact Us
Email: flosairaa@gmail.com
Call: +91 95822 29065